10 Pride campaigns worth talking about
The Lane Agency • 21st Jun 2019
For the most part, Pride seems to bring out a different class in those brands that rally to support what it stands for. Each on the list, and many that we found in our research but aren't included below, offer a tangible financial contribution to a worthy cause. Quite different from simply paying lip service in order to align with a certain set of values then! It's hard to find fault with that.
1. Levi
This is the sixth year the denim company have released a Pride capsule collection, with 100% of profits going to OutRight Action International. The campaign focuses on being Proud. Together, celebrating the LGBTQ+ community and the power they have in creating unity, support and love.
2. Urban Outfitters
The high street retailer are going all out for Pride 2019, with a whole host of events across their stores featuring live music, food, drinks and an exclusive range (of which all profits will go towards GLSEN in support of LGBTQ youth).
3. Ikea
The homeware manufacturer have given their iconic Frakta bag a makeover in honour of Pride 2019 and in order to promote LGBT+ rights. They're not just talking the talk either, Ikea are donating 100% of profits to the Human Rights Campaign Foundation. The charity is the largest organisation in the US that campaigns for equality for lesbian, gay, bisexual, transgender and queer people.
4. M&S
Everyone's favourite 'posh supermarket' has launched a LGBT+ sandwich in honour of Pride 2019 in order to raise money for not one but two charities; The Albert Kennedy Trust and Be-Long to Youth Services. What makes an LGBT+ sandwich you ask? Well Lettuce, Guacamole, Bacon and Tomato of course. However, opinion on whether the sandwich is a useful part in the campaign for LGBT+ rights (a total of £11k donated to the charities mentioned) or if it forms part of cynical trend of brand piggybacking on social justice trends seems to be divided.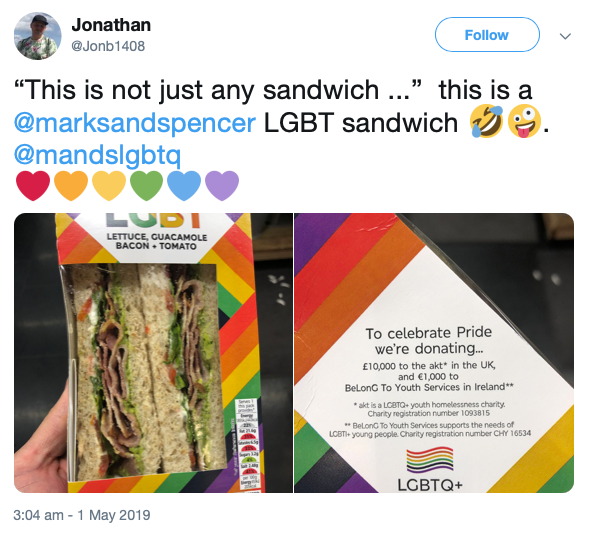 5. Smirnoff
"Pride isn't just a party – it's a home." According to vodka giants Smirnoff anyway. This fabulous video from them features actress and LGBT+ rights activist Laverne Cox (who you might recognise from Orange is the New Black) and forms part of their continuing commitment to raise $1.5m for the Human Rights Campaign.
6. Verizon
When a national communications company invest in a campaign that champions what is perhaps one of the hardest aspects of a LGBT+ person's life, it's a good sign that attitudes are changing for the better. 
Love Calls Back from V Team News on Vimeo.
7. MeUndies
A great fit for Pride, if you'll pardon the pun, is MeUndies who are celebrating the festival for their third year on the trot. Like others mentioned on this list they've brought out their own Pride range of underwear, of which $1 of each sale will be donated to Miley Cyrus' nonprofit Happy Hippy Foundation.
8. Playboy
Historically known as a typical 'mens magazine' (and we use that in the old fashioned meaning of the phrase), Playboy's Pride-themed bunny ears make a strong statement that anyone can celebrate the festival. Not just those who necessarily identify as part of the LGBT+ community. Each designed by queer artists, the sale of these limited edition accessories funds a campaign to ban aversion therapy.
9. Harry's
Even the shaving companies are getting in on the limited edition Pride merchandise (…we're beginning to see a pattern here). Again they're donating 100% of their profits to The Albert Kennedy Trust.
10. Kind Bars
Exhausted from all the Pride celebrations and need to fuel up with something high in protein and low in sugar? Kind have the perfect snack. They've been celebrating and inspiring kindness for 15 years now and have decided to continue the good vibes by transforming their wrapper in honour of Pride and to offer financial help to the Ali Forney Center.