Trending through time: 20 years of Google-ing
Vicky Anderson • 11th Nov 2022
What were you doing in 2002?
Maybe you were listening to Eminem, watching Pokémon, obsessed with Harry Potter or glued to the World Cup. Whatever was on your mind (or your searches) at the time, Google is all set to take you on a trip down memory lane.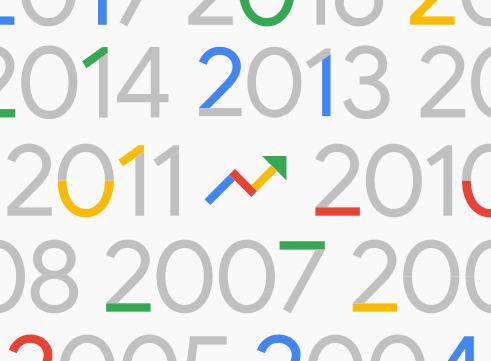 The search engine has just released its top trending searches for the last 20 years allowing us all to have a look back on times past. With an additional small video dedicated to each of the last 10 years, you can get a feel for these moments in time, what everyone was feeling, and the all-important stats that come along with them.
Top trends vs top searches
Firstly, it's important to distinguish between top trending searches and top searches. Top searches are the highest volume of search categories which are steady throughout the year – regular stuff that's consistently on the front of peoples' minds. Top trending searches, on the other hand, have a spike in interest due to a specific event – that could be anything from a disaster to a sports event or celebrity news.

Changing with the times
Not only do these trends let us see what we're interested in year-on-year, we can also compare between years to see how things have changed.
So, taking a quick glance over the past 20 years, we can see that it started with 2001 being an important year for music technology – MP3 music services, Morpheus and Napster were top of the trending search results. This technology was a really popular search for a short period of time before technology moved on again and left it behind. In 2006, social media goes mainstream with Bebo, closely followed by MySpace topping the trends. Facebook wasn't far behind in 2007 with the platform and 'Facebook Lawsuit' trending that year. At the same time, people were also searching for the crazy frog ring tone and asking what Bluetooth was. Twitter and YouTube were trending in 2009 and 2010. Social media-based trends followed. Gangnam Style was in style in 2012, the Ice Bucket Challenge took over 2014, Pokémon Go kept many busy in 2016 and everyone looked to Zoom in 2020 before the next social media sensation entered the scene and TikTok pasta become a trend in 2021. Results like this show just how events, specifically through tech and social media, have shaped the years.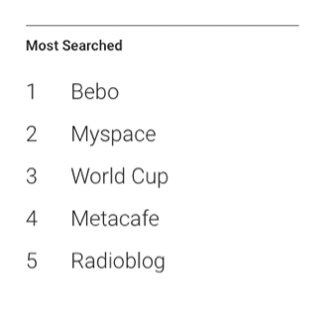 5 years of searching
If we look back over just the last 5 years, from 2017 to 2021, we are reminded of big news stories, major events, culture and some of the burning questions at the time…
2017 – Hurricane Irma, Weinstein and the MeToo movement, fidget spinners, Bitcoin, Grenfell Tower, Meghan Markle, How to make slime?, How to buy Bitcoin?, Wimbledon and Grand National.
2018 – Fortnite, World Cup, Meghan Markle, What is bitcoin?, What is GDPR?, Killing Eve, World Cup, Royal Wedding and Royal baby.
2019 – Rugby World Cup, Cricket World Cup, Notre-Dame fire, Game of Thrones, Prince Andrew, How to Floss dance?, Chernobyl and Caitlyn Jenner.
2020 – COVID-19, Black Lives Matter, US elections, furlough, Caroline Flack, Tiger King, wine delivery, Joe Wicks, When will lockdown end?, How to make bread? and How to cut your own hair?
2021 – Squid Game, Bridgerton, COVID vaccine, Euros, Christian Eriksen, What does COP26 stand for?, impeachment meaning and woke meaning.
Having this snapshot of a whole year condensed into a few words gives us an interesting glimpse into the things that have captured the world's attention over time.
Digging deeper into the trends
By comparing years and their corresponding searches, we can also see general themes that would describe the feelings and behaviours of the time. Below, we have compared a number of years, looking at the trending searches for 2001, 2011 and 2021.
Google Trends only began in 2001, so the data for that year is shown as global rather than UK specific. The 2011 and 2021 data is much more detailed and only represents the UK.
2011 was described by Google as the year of adversity, crossroads, revolution, remembrance, possibility and inspiration. Big events included the tsunami in Japan, floods in Brazil, riots in Greece, Steve Jobs' death and the Royal Wedding. Groupon was booming and the latest Apple releases of the iPhone 5 and iPad 2 trended.
2021 on the other hand was the year of healing. It was about comebacks, community and getting people's lives back on track after the 2020 pandemic. 2021 could be described as resilient, hopeful and strong. Trending searches focused on the COVID vaccine, How many cases are there in my area?, and When will lockdown end? Trends including the Euros and the Premier League showed that things were beginning to return to normal.
Looking forward to what was leading 2022 searches
Reflecting on the last 20 years of Google Trends, it's easy to wonder what this year might have in store. So, here are our predictions on what 2022's top trending searches could look like.
Russian Invasion of Ukraine
Queen Elizabeth II
Elon Musk buys Twitter
Monkeypox symptoms
World Cup Qatar
Cost of living
Are we going into a recession?
How long was Liz Truss Prime Minister?
Kanye West
Only time will tell how many of these searches top the list. In the meantime, you can check out all the trends from 2002 to 2021 here and start making your own predictions.
If you'd like to talk to our team about anything Google, just give us a call on 0131 551 7777 or media@thelaneagency.com