All grown up and back for more – my experience of returning to be a #Laner again
The Lane Agency • 18th Mar 2022
Seven years ago, in my third year at Stirling University, I interned at The Lane Agency for 3 months over the summer. Since then, I've made it one of my career missions to work somewhere just like The Lane.

Fast forward to 2022 – I'm back, all grown up (kind of) and ready to sink back into one of the best company cultures that I've had the pleasure of being a part of.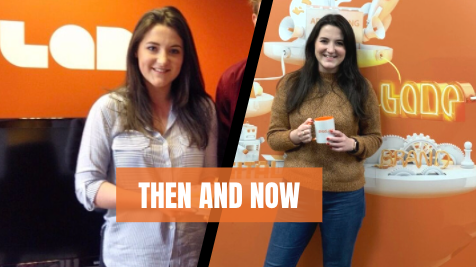 In a sense, The Lane has also grown up a little bit in the last seven years. There are lots of new smiling faces and plenty of the same, still smiling, faces I know from all those years ago. For me, these same faces still being here 7 years on is a huge testament to the company culture and cheery working environment and is certainly one of the main reasons why I kept an eye on The Lane, waiting for the right opportunity to find my way back.

Fortunately for me, the right opportunity to re-join the team came along just as I was ready to grab it with both hands and take on a really exciting new challenge.

From as early as the interview stage, I got a feel for how supportive the management team are when it comes to the most important things like work-life balance, professional development and job satisfaction. Now, coming into my role here at Lane Media as a Media Account Manager, I already feel unparalleled support from the wider team and a real sense of pushing for success from within. The team have definitely welcomed me back wholeheartedly and are just as collaborative and fun-loving as I remembered. I'm truly loving every minute so far!

In the coming months, I can't wait to soak up more of the culture, learnings and really get stuck back into life as a #Laner once more.