What is a brand purpose statement?
Sallie Bale • 27th Mar 2023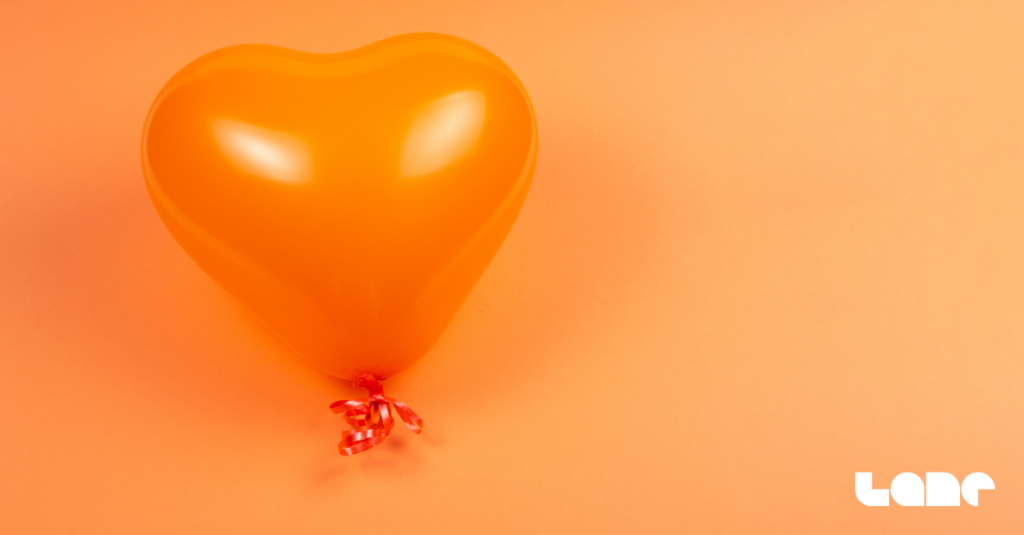 Dive into the world of brand purpose statements, where we'll explore the art of crafting a purpose that not only resonates with customers in today's climate but also makes your brand stand out from the crowd – are you ready to create yours?
In this article:
What is a brand purpose?
A brand purpose is the reason a business exists, and the brand purpose statement is a clear, concise expression of it. Above all it is the core philosophy that guides a company's decisions and drives their actions. It's more than just a mission statement or tagline. It is the passion and values that represent a brand and it is the driving force behind why a company does what it does.
Having a powerful brand purpose is essential for a business to effectively engage customers and build loyalty. It also gives customers a clear understanding of a business' values and beliefs, allowing them to emotionally connect with the brand. A brand purpose will help to differentiate a business from competitors and it should be embedded in all aspects of the business to create a unified identity.
For a brand purpose to truly resonate with customers, it needs to be communicated clearly and consistently. So this can be done through content marketing, advertising, sponsorships and PR activities. By sharing the brand story in a compelling way, customers will understand a business' motivations and purpose, as well as its commitment to making a positive impact.
Ultimately, a brand purpose should capture the bigger picture and be more than just a statement of intent. It should be meaningful and authentic, and should encourage customers to trust and engage with the brand. Therefore, a brand purpose should be genuine and relatable, and it should be communicated in a clear and consistent manner to ensure it resonates with customers and builds loyalty over time.
Define 'purpose'
The definition of purpose is:
"why you do something or why something exist"

Cambridge Dictionary
'Purpose' is a flexible word.
What's the purpose of this document?
Pass me the multi-purpose cleaning spray.
I don't see any purpose in continuing this conversation.
It's my purpose in life to rescue animals.
She used her lottery winnings to good purpose.
The bowl of fruit was for display purposes only.
It's about the reason. The why. It's not what you do, but why you do it.
What do we take from that in the world of brand purpose?
It's the reason the organisation exists… beyond making money. We don't want to just show the world what a great product or service we have. But we want to lift the lid on our reason for being, our reason to strive for better every day.
Why is brand purpose important?
In our fast-paced digital world, businesses must be more than mere purveyors of products or services – they need a purpose that resonates with their audience, making brand purpose more important than ever.
It's not just about what a company does, but why it does it – brand purpose forms the heart of a business's identity, engaging customers and fostering loyalty. When people connect with a brand's purpose, they're more likely to interact, buy, and spread the word to others.
And let's not forget, a solid brand purpose helps you stand out from the competition, giving your company that extra edge, especially for small businesses navigating crowded markets. A clear and unique purpose can be the key to success.
That means a well-defined purpose nurtures a sense of responsibility within a company, guiding ethical choices and inspiring employees to contribute to a greater cause.
As the golden thread weaving through all marketing efforts – from ads to PR – an effective brand purpose delivers a clear and consistent message, becoming an invaluable marketing asset.
So, whether you're a small start-up or an established giant, brand purpose is essential for carving out a distinct identity, building customer loyalty, and elevating your marketing game.
What is a purpose driven brand?
A purpose driven brand is one which is based upon a strong set of values and beliefs, and which seeks to make a positive impact in the world. It is motivated by something greater than just financial gain, with the goal of creating positive change for the people, the environment and society as a whole.
A purpose driven brand may have an external facing line, like John Lewis' 'Never knowingly undersold' which was used for 95 years, and dropped during the COVID-19 pandemic. At the time, Sharon White, John Lewis Partnership's new chairman, told The Guardian:
"The proposition is important because it signifies being fair to society."
"We've had fair value as part of our proposition for almost 100 years. And fair value will continue to be part of our proposition going forward, whether that's in a more modernised form or not."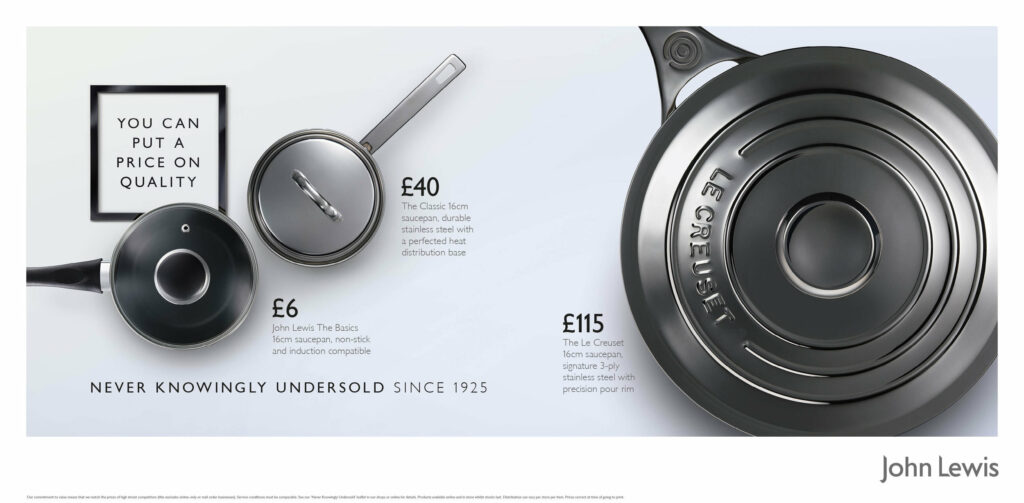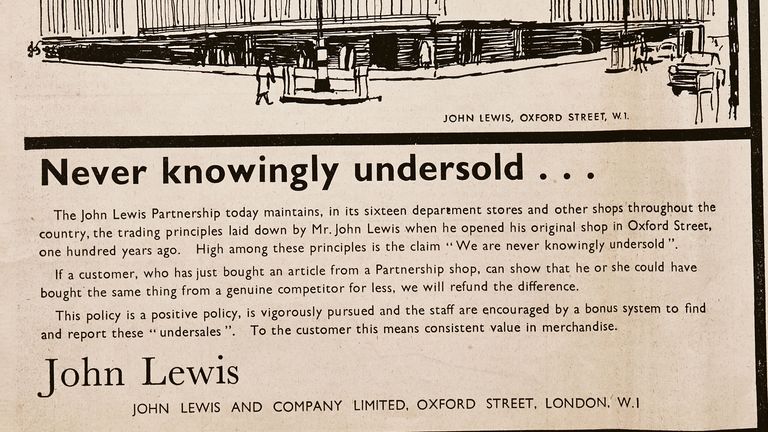 Just like a brand essence in our brand wheel, a purpose might live out in the world of the consumer, or it might live internally, for the organisation to bring to life through every department and interaction.
That means this is likely to lead to consistent messaging about your purpose. Take HSBC for example. Its purpose is 'To enable companies, individuals, and communities to thrive'. Above all, this is core to every person within every role in that business. It's easy to understand how it relates to your function. But it's not a customer facing line.
So you can see here are some examples of that line coming to life for the consumer.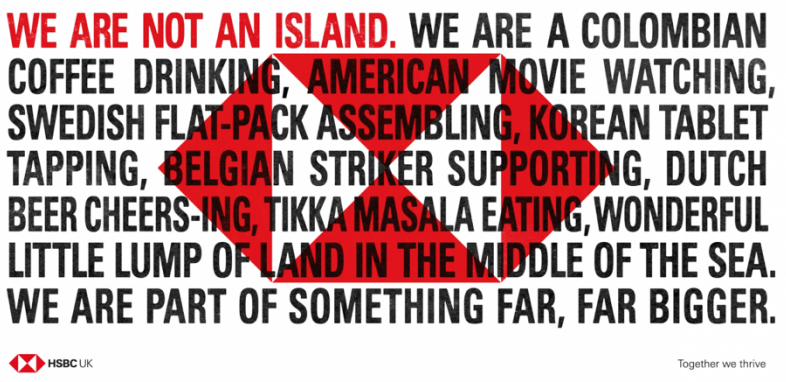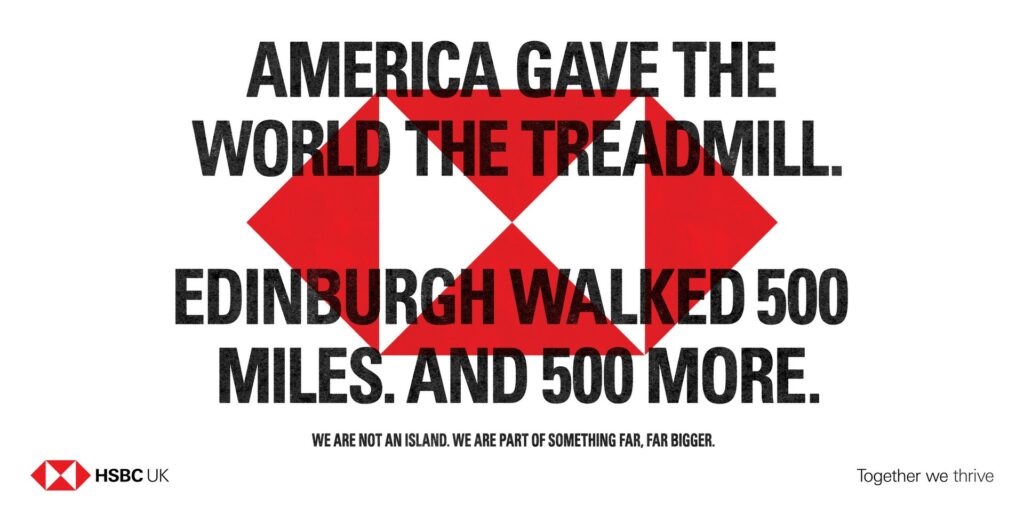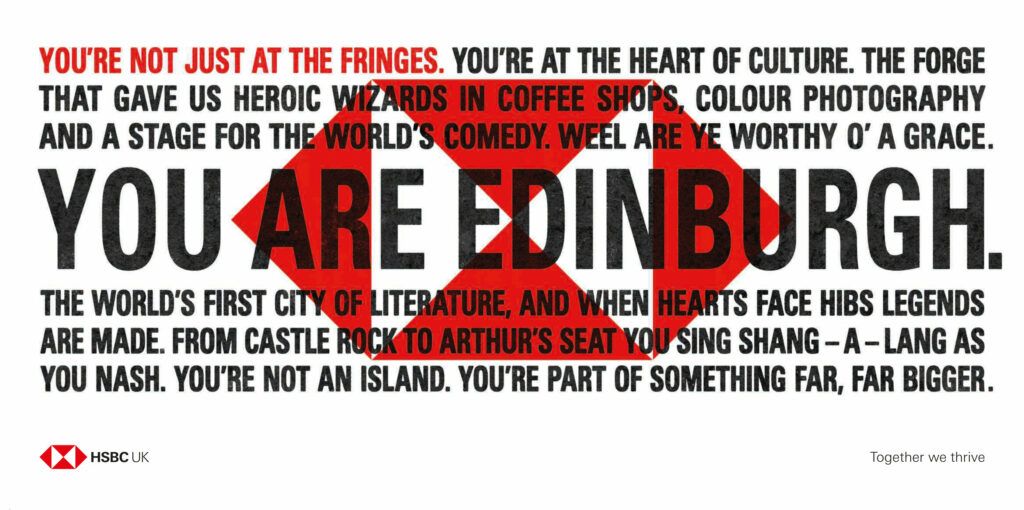 Brand purpose statement examples
Eager to delve into the world of brand purpose statement examples? In this section, we're shining the spotlight on some top-notch examples that not only captivate audiences but also perfectly encapsulate the essence of the brands they represent. Remember, a picture – or in this case, a well-crafted statement – is worth a thousand words.
So, let's explore how these purpose-driven brands communicate their 'why' and inspire their customers, and who knows, maybe even ignite some ideas for your own brand purpose statement.
Virgin Atlantic: To make travel better for everyone
Google: To organize the world's information and make it universally accessible and useful
John Lewis: Never knowingly undersold
Unilever: To make sustainable living commonplace
BBC: To inform, educate and entertain
Apple: To bring the best user experience to its customers through its innovative hardware, software, and services
Lloyds Banking Group: For the future, for everyone
HSBC: To enable companies, individuals, and communities to thrive
Barclays: To help people rise – financially, socially and emotionally
Nike: To bring inspiration and innovation to every athlete in the world.
How to develop a brand purpose statement
To develop your organisation's brand purpose is going to require some exploration.
A brand purpose statement should be a clear line that reflects the core values of your brand. It should be succinct and easy to understand, while conveying the message of what your brand stands for and why it is meaningful. For example, the brand purpose of Patagonia, an outdoor apparel company, is "to build the best product, cause no unnecessary harm, use business to inspire and implement solutions to the environmental crisis."
We use the Four Phases of Brand Purpose Development:
Mine
Define
Refine
Shine
Phase 1: Mine
When developing a brand purpose, it's important to take the time to understand the stories that make up your organisation.
Developing your brand purpose isn't about making up something that sounds good. It's about mining the nuggets of gold that already exist. You want to hear from the people that make your business what it is, the driving force behind the business, so you can amplify and direct that passion.
Depending on the size of your organisation, some initial first steps in that exploration phase could be:
A series of workshops or focus groups with colleagues from across the business to understand their passion, purpose and values.
Focus groups or a survey with your key audience segment to understand what is important to them, and how they see your brand adding value to their world.
Reviewing customer feedback and other data collected about the brand, product and service.
Looking at other companies in your brand ecosystem to see what drives them, and whether your purpose competes with or compliments them.
When listening to feedback or reviewing the data, be sure to look out for stories that illustrate the character of your organisation, its core values and beliefs, and any key moments in its history. Listen out for stories about the individuals that make up your team and their interactions with customers, and how the organisation has adapted and responded to changing customer needs.
Listen for where the passion lies. Where people go above and beyond their job description.
You could also note any relationships with the wider world. Any charitable or environmental initiatives. This will help to help your brand purpose truly reflect the values and beliefs of the organisation.
Phase 2: Define
It's time to sift through all the information mined from the first phase.
Our aim now is to distill all the insight gathered into a single brand purpose statement.
How do you define a brand purpose statement?
Begin by looking at the common themes that emerged. You might want to go through the data with a highlighter and pull out common themes. Take note of the language used by real people, this can serve as inspiration and make sure you're not slipping into corpspeak.
These can then be used to create a draft statement that captures the heart and soul of the organisation. The draft statement should include the organisation's core values, beliefs and mission, as well as any key moments in its history that have had a marked impact.
The key components of a brand purpose statement are:
A clear and concise statement of what your brand stands for.
A sense of purpose that resonates with your target audience.
A meaningful commitment to making a difference.
A call to action that encourages customers to take action.
The statement should be no longer than a few sentences and should be easy to remember.
If you're struggling with where to start, try filling in the gaps of this brand purpose template:
[Brand] is committed to [purpose] and [mission], inspiring [audience] to [action]. We strive to create [impact] by [doing what].
Phase 3: Refine
Once the initial draft statement is complete refine and simplify it. Ask yourself:
It is clear and easy to understand?
Are there any superfluous words and phrases to remove?
Is it concise and to-the-point?
Does it reflect the sentiment of the data gathered?
Does it reflect the organisation and its values?
Will it resonate with customers and the target audience?
How will it appear in various communications materials, such as website copy and marketing collateral?
Once you've been through a number of iterations, and you're happy with your draft statement, you may want to test drive it.
Mock up a few designed materials where you envisage the brand purpose living, and take it to a few stakeholders.
If your organisation has a strong and cohesive culture that you're trying to build on, you may want to share these materials with a cross-section of the business to see if it resonates and inspires.
However, if you're in the process of trying to shift the culture of the organisation, you may want to think deeper about who you workshop these materials with. You may decide that they're strong enough to turn around unengaged employees, in which case you will want to test that theory out now.
Or, you may decide that you want the purpose to fire up your most engaged employees, and attract more of the same into the business, so perhaps only test it with that section of the business.
Phase 4: Shine
The only thing left to do is let your purpose shine.
Each organisation will do this differently.
You may decide to use your brand purpose in a customer facing setting. Or you may develop an external facing version.
We'd definitely recommend adding some purpose driven statements to any messaging you use, or perhaps layering your purpose through your messaging pillars.
This work may lead to a review of your existing brand elements to ensure they're 'fit for purpose', if you like.
Have a quick flick through this list and see how you would change the way you approach them in light of your new, values driven brand purpose.
Within your organisation:
Team meetings
Decision-making processes
Staff newsletters
Staff intranet
Internal communications (emails, presentations, etc.)
Signage and wayfinding
Staff onboarding and handbook
Externally facing:
Website
Social media
Ad campaigns
Press releases
Recruitment
Videos
Events
Newsletter
What makes a strong brand purpose?
The hallmarks of a successful, strong and long lasting brand purpose statement are:
Clarity: A concise, meaningful statement that captures what the company stands for in the world.
Authenticity: An honest expression of the company's core mission and values.
Relevance: A purpose that resonates with the target audience and reflects their needs.
Actionability: A purpose that can be applied to decision-making, collaborations and product offerings.
Consistency: A purpose that is communicated, understood and followed by all stakeholders.
Want brand purpose help?
Sometimes an outside view can be really helpful in deciphering what will land best with your audience. If you'd like an expert brand strategy agency to help you, don't hesitate to get in touch!