The ever growing flexibility of digital outdoor advertising
Natalie Henderson • 26th Apr 2017
As JC Decaux roll out their 'billion eyeballs' aspirations for 2017, it's worth taking a look at the changing face of outdoor advertising in the UK.
According to the Advertising Association/Warc Expenditure Report, digital-out-of-home (DOOH) advertising claimed a 31% share of total out-of-home adspend in 2015 – set to rise to 40% in 2017. And PwC predicts that DOOH advertising revenues will overtake traditional spend in 2020, growing at a rate of 15% a year for the next four years.
Growth is fuelled by sheer expansion of inventory, new formats and new technological advances which have allowed for integration (particularly between mobile and OOH) and the likes of recognition technology.
However, the selling of DOOH has tended to lag behind the advances in technology, with the fixed two week in-charge the standard offering. Forays into commuter packs, weather/temperature triggered advertising and the daypart scheduling of supermarket sites have merely whetted the appetite for more.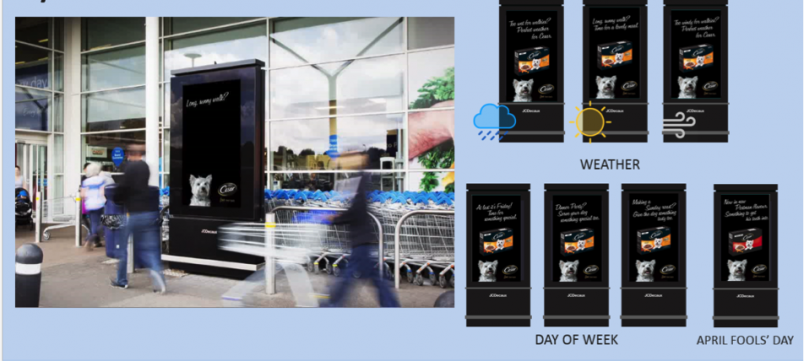 Every out-of-home advertising frame in the UK is being given a 10 digit code to automate the trading of sites. This, in conjunction with SPACE (a unique data-management application, which stores, categorises and standardises every piece of OOH inventory within the UK), makes automation and programmatic ripe for growth.
The systems will enable brands to buy OOH advertising in a similar way to television, by number of 'impacts'. This approach has been or is being adopted by contractors to varying degrees. Ultimately by matching SPACE and audience data (from a raft of data sources such as CACI – marketing data specialists, YouGov and Telefonica smartphone data) it will allow for cross contractor and format campaigns to a specified audience, be that demographic (25-34 year olds), or behavioural (Fashionistas, Tech, Arts & Entertainment…).
In this shift from selling panels to buying audiences, the aim is both to increase operational efficiencies and to offer advertisers more flexibility, innovation and contextual capabilities in their engagement with consumers. It would be good to see clients and the advertising industry taking advantage of this… so if you'd like to find out how Lane Media can help your business to do just that, please drop us an email to media@thelaneagency.com.
***
Natalie Henderson is a Senior Planner at Lane Media and always approaches the task of media planning with research and vigour. Hugely experienced, she's the perfect person to add value to your next campaign.