Forget Black Friday, it's all about Singles' Day
Kat Stark • 12th Nov 2019
Every day is a special day now, everyone knows May 4th is Star Wars Day but did you know that the 21stJanuary is International Hugging Day? You do now! 
Of course yesterday was Remembrance Day in the UK, where we all fell silent in memory of our fallen heroes. Lest we forget.
Yesterday was also Singles' Day, an Eastern phenomenon with an increasingly global footprint. Singles' Day was born out of China, originally as a celebration for singletons in the 1990s. Daniel Zhang, former CEO of Alibaba chose the 11thNovember as 11/11 signifies four single people coming together. 
Only recently has it become resident to the UK thanks to Amazon, however we're still somewhat sceptical due to the sombre clash of the poppy and the pound.
Although it might be a new concept to Brits, last year Singles' Day was the largest retail day of the year, overtaking both Black Friday and Cyber Monday. Consumers purchased £34.45 billion worth of goods and services in a 24-hour period in 2018. That's three times bigger than the sales of Black Friday. This year Alibaba reported that their sales had reached $1bn in little over a minute and $30bn on Alibaba alone.
Unsurprisingly 90% of all Singles' Day purchases in 2018 happened on mobile devices. On 11/11 it's all about spontaneous purchases and bagging a bargain. 
British consumers will spend an estimated £1.29bn on Singles' Day this year according to the Centre for Retail Research. Well-known brands including Amazon, ASOS, New Look, Sports Direct and Superdrug all ran promotional offers this year. And so did we.
Some retailers are using discount codes to get in on the action (eg. Nike offered 20% off with the code SINGLES), some brands are going for a more subtle 'treat yourself' message (like La Mer below), whilst some are a little more explicit with their messaging like ASOS promoting 25% off control pants with the code SINGLEYAY…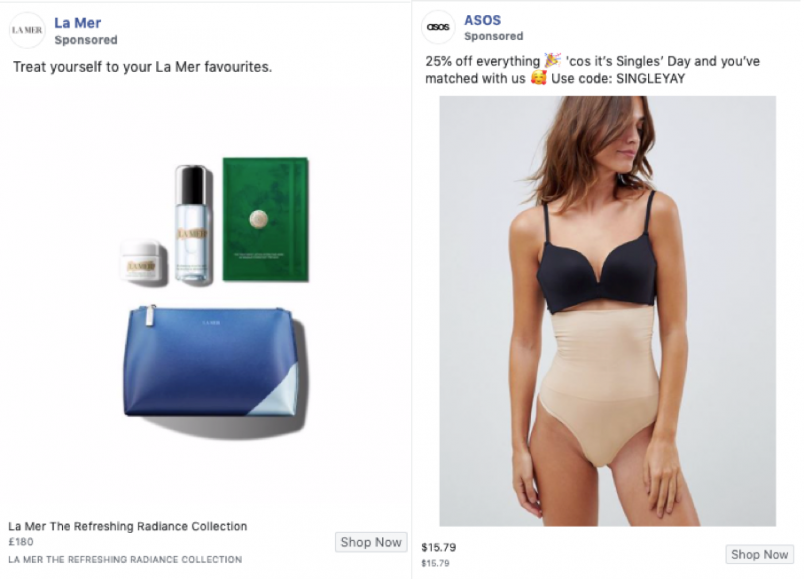 By the looks of things, Singles' Day will only become more prominent in our commercial calendars in years to come. Yes there could be backlash over the intense commodification of relationship status – if you thought Valentine's Day was bad then November 11th could be set to be worse! But then again we do think 11/11 is here to stay. It didn't hurt last week when Emma Watson became an inadvertent champion coining the phrase 'self-partnered'. Admittedly this was to champion feminism not consumerism, but every little helps.
At The Lane, we work with a range of e-commerce clients across all sectors both UK and worldwide on both Paid Social and Paid Search channels. This year has been the first time we've tapped into this audience whilst trying to strike a balance between subtle and direct messaging – but we fully expect this to be just the start….