Our Favourite Adverts of All Time!
Teddy Craig • 5th Apr 2017
It's easy to get sucked into agency-speak and agency-thinking, but at The Lane we know that we're trying to help our clients to reach real people. That's why we like to take a step back and look at what works from a human perspective. We asked our team members from across all departments and disciplines to share their own favourite advert and tell us a little bit about why it works for them.
We say adverts, but we've opened it up to be any form of brand content that has made an impression. After all, that's what it's meant to be doing.
So, without further ado, here (in no particular order) are our favourite adverts of all time!
Nike – The Cage
Barry Fearn, MD of Lane Media nominated this stylised demonstration of footballing brilliance (and Eric Cantona's acting skills). The reason for the nomination? Simple.
"The Galáctico of football adverts."
National Lottery/Sport England – This Girl Can – Phenomenal Woman
Account Manager Emily Liddle offered two nominations, both are ads that promote female empowerment but they were produced for very different brands.
The first ad continues the sporting theme that our list started with.
"They've just launched the new arm for their TV campaign following the success of their previous #ThisGirlCan campaign back in 2015 – it's amazing! The ads address the fear women feel around not being good enough/looking good enough when taking part in sport. Sport in the UK has one of the largest gender gaps and this ad really hits the nails on head in terms of women of all ages/sizes feeling confident when exercising. Plus, it uses a Maya Angelou poem as the dialogue…"
Orange – Roy Scheider Cinema Ad
As I'm writing this blog (Teddy Craig, Head of Content), I'd probably better chip in a couple of examples myself.
I loved the Orange cinema ads for a few reasons. The ads fitted in with Orange's commitment to cinema-going (through 'Orange Wednesdays') but they went beyond the usual bland platitudes of sponsorship.
They show a brand willing to laugh itself but also, crucially, they're just really well executed. There's no cringeworthy sense of trying too hard. It's a brand in-sync with its own audience and with the cinema audience.
Audi – R8 TV Ad 2013
Car brands have often led the way when it comes to advertising, starting way back with the iconic Volkswagen 'Lemon' ads. Of course, those were adverts that capitalised on downplaying their cars. That's not an approach that applies to Audi cars… but demonstrating the power of a vehicle can still present more of a challenge than you might think.
That's why Peter Donaldson, Media Director at Lane Media, had no problems in selecting his favourite ad.
"Easy one for me: Audi R8 from 2013 (You have to have the sound up loud for the full effect). How do you show the speed and power of a new sports car when you're very restricted by TV rules on showing people driving fast or enjoying driving fast? This was their solution – genius in my opinion."
Benson & Hedges – Swimming Pool
David Isaac is Creative Director at Family, who we share our offices with and do a lot of work with. He picks an advert that marked a turning point for the industry.
"Benson & Hedges – advertising had been so literal before this ad. Then in the face of tobacco advertising restrictions, it unleashed a new way of looking at advertising. Game changer."
Levi's – Laundrette
Ross Mackie is Senior Designer at The Lane and picked a few adverts that resonated with him. His first pick also represents a moment of real change.
"The first LEVI's ad, everyone wanted to wear their jeans after this."
Reebok – Terry Tate: Office Linebacker
For an advert to imprint on your consciousness and still be recalled years later, it's emotional impact is important. Of course, laughter is an emotional response and this Reebok creation generates plenty of it. A point not lost on The Lane's Creative Director, Ricky Stevens.
"There have been many effective adverts, many that are great for brand recognition etc, but if I'm being honest and true to myself, this is my favourite series of ads of all time. It aired once on American national tv and went on to have over 7 million views online.
In 2003, Terry Tate was entered as a candidate in the 2003 California recall election, under the name 'Lester Terry Tate Speight'.
I'd have voted for him."
Outpost.com – Gerbils
Family Creative Director Kevin Bird's favourite TV ad suggests that we may not be asking him to do any pet-minding over the summer holidays. However, we will be asking him to share any more videos he knows of that are as funny as this one!
"One of my long time favourite TV ads is Outpost.com. The simplest brief ever.
The ad would eventually be banned… God knows why though… because 'nobody got hurt in the making of'.
Still genius today. Brilliantly written. Perfectly executed."
Tennent's Lager – Caledonia
The dream for every brand is to create a yearning. In the case of this ad, it manages to tap into the feelings of every Scot who has found themselves yearning for a taste of home.
It certainly has an effect on The Lane's Client Services Director, Chris Bruce.
"Brings a tear to my eye every time I watch it. And it's a great track."
Our sympathies to Chris's partner, who sees every dream holiday ruined by a tearful Chris pleading with the waiters to take away that bottle of Singha and track down a can of the mystical big red T.
 
Paddy Power – Ruby Walsh Confronts Twitter Troll
Chris couldn't limit himself to just the Tennent's Caledonian ad, not when Paddy Power have just released this video.
"Brilliant use of Ruby Walsh – I'm sure we'd all love to do what he does in the ad!"
Always – #LikeAGirl
Emily's second choice of an advert that makes an impactful statement on female empowerment is this Always #LikeAGirl ad.
"This was shown at the Super Bowl in 2015 and has a full 4 minute campaign video as well as the 1 minute ad. The phrase Like A Girl is used not only as a powerful message but a way to spark conversation online and social. The brand turned the phrase from an insult into a term of empowerment, not only for young girls/women but people of all ages."
Carling – Dambusters
Ross has picked out another classic from the archives, with this very funny 'alternative history' take on the famous Dambusters raid.
"Just funny, watch to the end."
Heineken – Majorca
Ross's next choice is a classic example from Heineken's "refreshes the parts other beers can't reach" campaign.
 
Flash – Ah Ah Dog
Mhairi Glen, who holds the office together, puts our copywriters to shame with her ability to succinctly explain what makes this 2016 advert for Flash work:
"It's a dog singing. CLASS."
Old Spice – The Man Your Man Could Smell Like
My (Teddy) second choice is an ad that helped to turn around the perceptions of a classic brand. Old Spice was something that your granddad used to wear, but this ad cleverly targeted women buying for the men in their lives.
It's beautifully edited, brilliantly written and hilariously performed. It's the ad you want your ads to smell like.
Samsung – Bear Does Laundry
Surprising, funny and beautifully executed, it's no wonder Account Executive Alice Mitchell is a big fan of this ad.
"This is an ad I looked at a lot during my brand management class at uni.
I don't think I've ever recalled a washing machine ad as much as this one. Most of them go over my head but this one leaves me with a big smile, of course, helped by the cuddly bear. Watch it till the end!"
Soesman Language Training – NSFW (!)
Listen, we're not saying watch this video. In fact, we're saying don't watch it – because it would be considered NSFW under all normal parameters. But, you know, it is really good. It makes a point relevant to brand and product. And it does it in a memorable way.
Which are all reasons we've had to supply ourselves because Senior Artworker Rob Badura just said:
"You did ask… Not sure why I like this ad…".
Nike – Pete Sampras Hand Grenade
Posters are Kevin's favourite medium. What makes this Nike poster so special?
"Doesn't need any explanation really."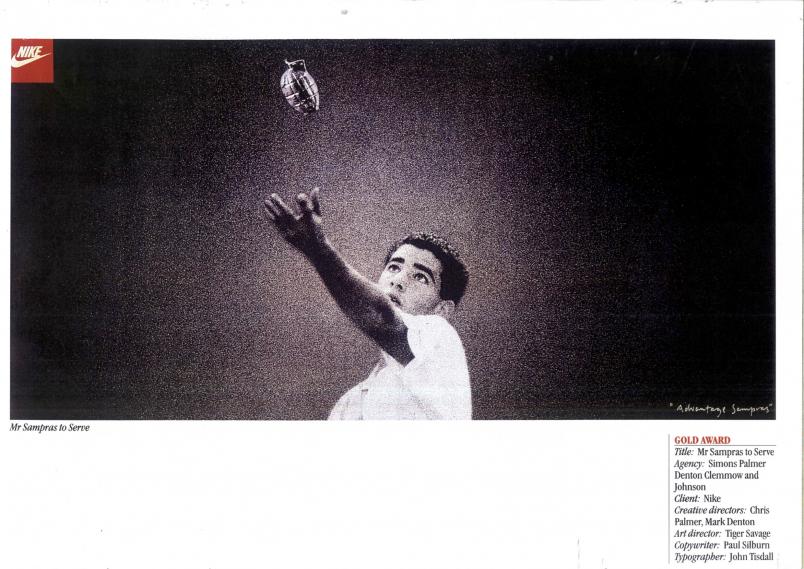 Harrison's Fund – I Wish My Son Was A Dog
Account Director Dawn O'Malley's favourite ad is one that she was actually a part of it. It's based on the powerful but shocking insight that people tend to respond more to charity fundraising creative that features animals rather than images featuring humans.
The advert led the reader to initially think that Harrison was a dog. As they began reading the copy, it was revealed that Harrison was an 8 year-old boy dying of a condition with no cure. The copy was a plea from his father. The dog? A picture found on the internet.
"Whilst working at ais London, I had the honor of working on a small charity called Harrison's Fund. One of the Ad's we delivered was called 'I wish my son was a dog'.
Both the client, and the charity genuinely touched my heart. This press ad represents the reason I got into advertising in the first place. The opportunity to be brave, and make a difference through developing a strategy based on insights."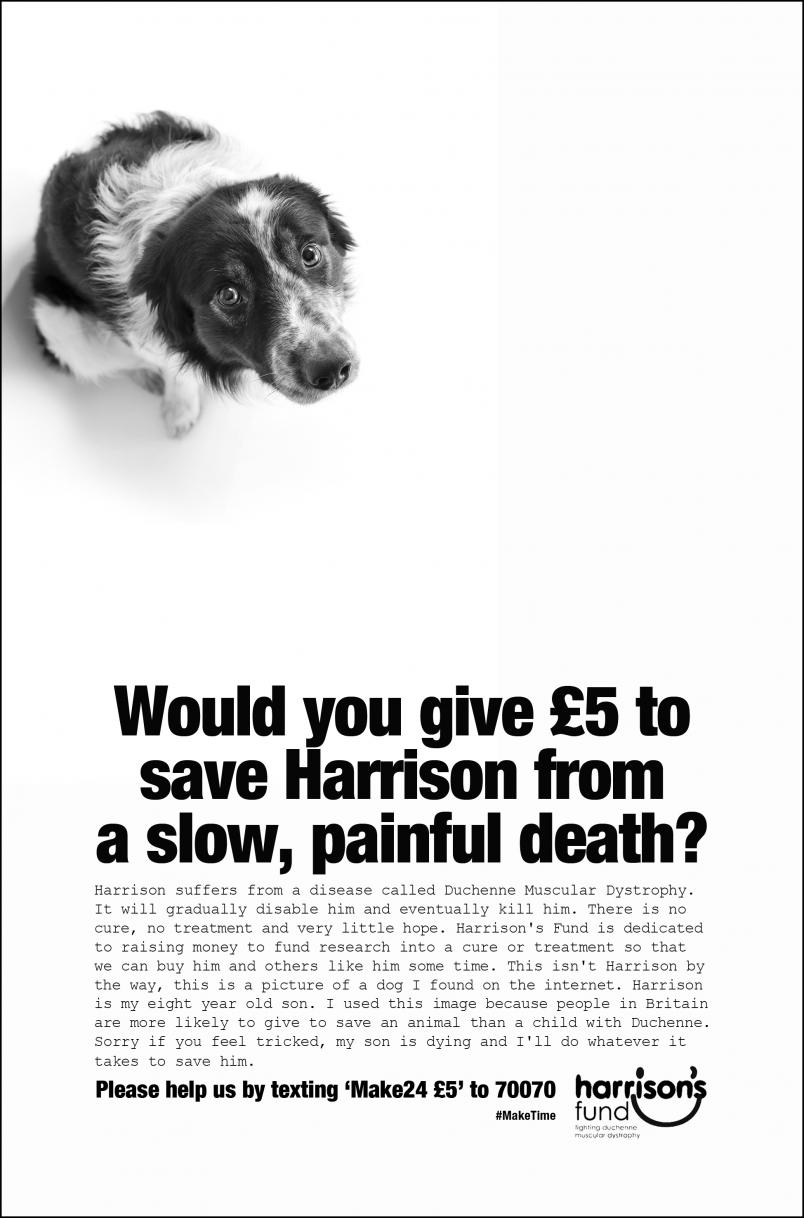 British Heart Foundation – Vinnie Jones
As well as the earlier Benson & Hedges classic, David had another choice. How good is it? Well, let's put it this way. You'll learn how to save a life and you'll believe that Vinnie Jones is a great comedy actor.
"Of recent times, I loved this.
A very imaginative way of doing something very instructional and entertaining. Brilliant performances too."
Chick-fil-A – Cows
Kevin was lucky enough to take in this poster in all its glory by a roadside in America.
It's very different from the Nike Pete Sampras poster… but like it, it needs no explanation.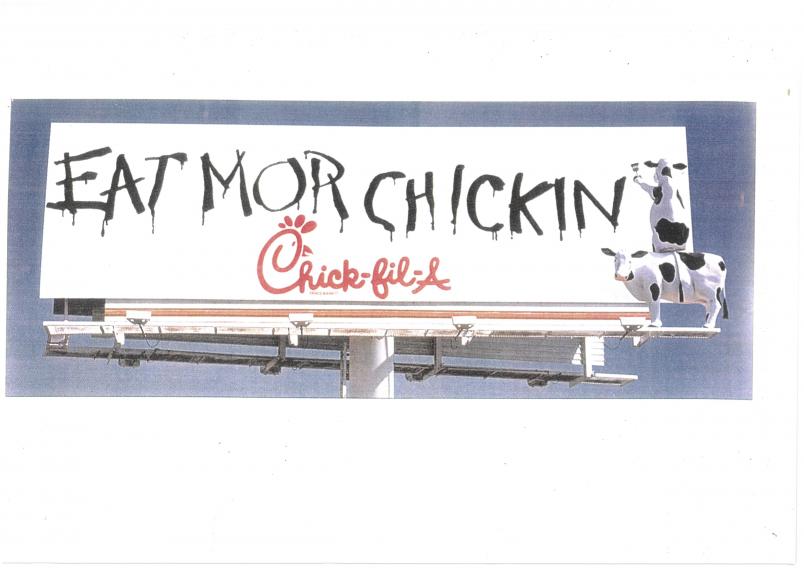 Channel 4 Paralympics Coverage – We're The Superhumans
Digital Media Planner Ria Dunlop still remembers the impact of Channel 4's ad for the channel's 2016 Rio Paralympics cover. "Clever use of musical theatre and the strong sentiment of 'YES I CAN' showing the importance of equality and the strength in believing in yourself. Each individual story make you think about how proud we should be as a nation :)"
 
Tango – You Know When You've Been Tango'd
Last word on our favourite adverts goes to Ross:
"…and you need to include an ad that gets banned because school children started slapping each other!"
***
We hope you've enjoyed our journey through our favourite adverts. Of course, when we're not flicking through the memory banks and either suppressing a laugh or going misty eyed with emotion… we're actually making adverts. And social posts. And stuff.
Stuff that will make people think of your brand the way they think of the brands in these adverts.
To find out more, please drop us an email to create@thelaneagency.com
We've got coffee.
And we'll get some cake.