Our Top Marketing, Advertising and Creative Social Media Accounts to Follow!
Teddy Craig • 30th Mar 2017
Marketing is an ever-evolving beast so keeping up-to-date with the latest news, developments and opinion can sometimes be difficult even for professionals. That's why following the right social media accounts can be a great way to 'nudge' the right information into your day.
And no, we're not suggesting you turn into 'all work and no play' but some marketing-related accounts can actually be pretty funny too.
To compile a list of some of the best marketing accounts to be following, we put out a call across our full-service agency and asked our team to let us know which accounts float their boat. Float it. And then sell it.
You might know Simon Sinek from his books like Start With Why and Leaders Eat Last. You might also have seen his video interview on the subject of Millennials in the Workplace. His Twitter account is a must-follow for Lane Agency MD, Ali Findlay.
It's not the only account that Ali can't go a day without a glance at though.
"I'm also a big fan of @LeanInOrg – the Twitter account of LeanIn.org, the non-profit founded by Sheryl Sandberg to empower women to achieve their ambitions. And @Campaignmag is a must for advertising and marketing industry news and insights."
 
Leadership is not about being in charge. Leadership is about taking care of those in your charge.
— Simon Sinek (@simonsinek) September 14, 2016
Our Digital Account Director, Julie Gray, is a big fan of @SmartInsights, the Twitter account of the Marketing Advice company of the same name.
"Smart Insights provide digestible digital marketing insight that's easy to action. Dave Chaffey, the founder of SI, is a knowledgeable, experience digital marketer and the company provides many useful templates on their website. These can easily be applied in working practice to help guide digital strategy development – and make it less daunting!"
Are you making disastrous #customerexperience mistakes? Guest blogger @JamesGurd explains how to fix them https://t.co/l17VdjCPXc https://t.co/D0SbgBIJcA
— Smart Insights (@SmartInsights) March 30, 2017
Our Digital Media Planner, Ria Dunlop, enjoys munching on some Dairy Milk content online as well as in real life.
"As you'll have noticed from Marketing Week Live, the Dairy Milk account is always using the newest formats and a lot of cute video content! In terms of more work-specific social accounts, I also follow the Squared Online Network on LinkedIn, as well as The Drum and The Marketing Society."
Barry Fearn is MD of Lane Media, our sister media agency. Why does he follow Tom Fishburne's cartoon comments on the state of the marketing industry? Simple.
"He just nails it."
"Content Marketing Overload" – new cartoon and post on trying to break through the clutter by adding to it https://t.co/4W6O0UNulv pic.twitter.com/Kf6V0MmRMW
— Tom Fishburne (@tomfishburne) March 12, 2017
Our Creative Director, Ricky Stevens, is also a fan of social media account with a strong visual output. The Jim'll Paint It account has a simple premise; you tell 'Jim' what you want him to draw on Microsoft Paint… and he does it. Cue a spectacular collection of images that manage to blend the surreal with the banal. It's like the collective visual cry for help of office workers across the globe.
Or, as Ricky sums it up:
 "I've been using his art as therapy ever since I turned 40."
@FabulousGadalf 'The Alien Queen, back off maternity leave and bollocking everyone for not using Dropbox properly' pic.twitter.com/xYCT94k4Hq
— Jim'll Paint It (@Jimllpaintit) May 21, 2015
It's not been updated for a few months now, but Media Director Peter Donaldson remains a fan of this 'what it says on the tin' account.
"I don't do the Twitter thang very often but @JustGreatAds always rewards and reminds me why I was intent on getting on the advertising hamster wheel in the first place."
The Guardian "Three Little Pigs" https://t.co/1Qcn0HhSeU
— Just Great Ads (@JustGreatAds) April 20, 2016
Chris Bruce is Client Services Director at The Lane and he's also found an account that makes the hamster wheel turn into a slightly more enjoyable ride. The Agency Quotes account compiles some of the best lines that you'll never hear in any other environment.
Whether you work in an agency and need the comfort of knowing yours isn't the craziest, or you work with an agency and are looking for an insight into the overthinking that your latest brief has sparked, it's well worth a follow.
Or, as Chris sums it up:
"Just for a little light-hearted relief at the end of a challenging day!"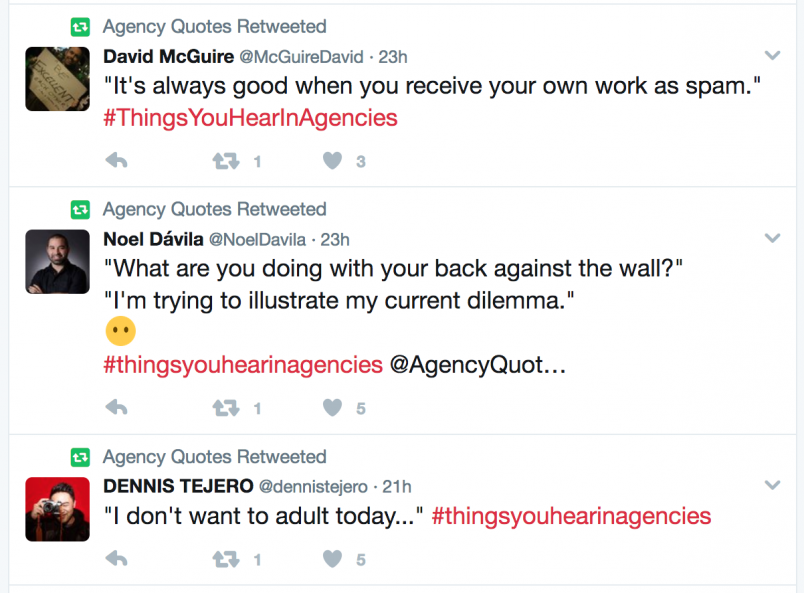 The iconic adman Dave Trott is the choice of David Isaac, Creative Director of Family, an advertising agency we at The Lane share our offices with and work with on a regular basis.
Why is David such a fan?
"An advertising legend who always has short, profound things to say – which usually make sense.
His book Creative Mischief is great.
It's full of useful stories and anecdotes.
And it's written like this.
In short, concise sentences.
Because short, concise sentences make sense.
Because they are focussed. And make a point.
Concisely.
Etc etc."
The big idea is dead, TV is dead, advertising is dead, things that haven't been invented yet are dead. Does that cover it, am I trendy now?
— dave trott (@davetrott) March 22, 2017
David's fellow Family Creative Director, Kevin Bird, has an online and an offline inspiration.
"Lurzers Archive is a quarterly magazine that posts great advertising campaigns from all over the world. They are constantly sharing great content from not just adverts but photography, illustration and innovation.
Brilliant Ads on Twitters shares a lot of the same but also more great campaigns from the past as well as the present. Nothing refreshes a creative mind more than seeing great work from elsewhere. It inspires you when the day to day appears to be grinding you down ;)"
Simple but clear: Wear A Seat Belt. pic.twitter.com/icHijF770z
— Brilliant Ads (@Brilliant_Ads) March 29, 2017
Our Head of Digital Services, Helen Millar, recommends the @forrester account, as well as a Facebook classic.
"The Twitter account doesn't offer much more than a promotion of their blogs and reports on business and tech, but it always challenges your thinking around how we should approach customer experience. The research reports also give great insight to specific industry sectors, invaluable in the agency context when you're required to have insight into so many different audiences and sectors.
My all time favourite is Condescending Corporate Brand Page on Facebook, all those misguided brand posts. Fantastic."
2017 will see the #digital maturity gap widen further between #finserv firms. https://t.co/7zWC2atl9V pic.twitter.com/fR4644r8Yd
— Forrester (@forrester) March 27, 2017
Having seen all the inspiring accounts being suggested as I compiled this list, I realised that the pressure was on for me to pull out a good one! David had already nominated the great Dave Trott whose account I'm a huge fan of too.
Another Twitter account I find consistently useful and rich in shareable content is Richard Shotton's. He's big on behavioural economics, meaning that he shares insights from the likes of Dave Trott and also from Rory Sutherland, another funny and informative tweeter.
As well as sharing a fascinating range of curated content, Richard Shotton's own blogs (shared on Twitter and LinkedIn) always come at things from a fresh perspective and challenge assumptions. Well worth a follow.
Alter experiment: hard to read fonts improved the care with which people read
From enjoyable Hitmakers by @DKThomp pic.twitter.com/HnfghdQf9C
— richard shotton (@rshotton) March 28, 2017
***
We hope you've enjoyed this whistletop tour through the social media sources that keep our synapses firing. If you'd like to see the results of our creativity then please take a look at our case studies.
If you'd like to find out more about we can help you with your marketing needs then please drop us an email to create@thelaneagency.com.