We're looking for our next Senior Account Manager to join our growing team of #Laners
Chris Bruce • 26th Sep 2023
If you have spent at least three years working within a creative agency and have a broad range of experience, we'd love to hear from you. We're a social bunch and like to collaborate in the office together at least three days a week, so we're looking for somebody who is comfortable being in our Edinburgh office more often than not.
About Lane
Lane are a multi-disciplined agency specialising in brand, design, advertising, digital and integrated campaigns. You'll be working closely with our clients delivering digital solutions and campaigns, taking briefs, and delivering creative marketing strategies with support from loving #Laners.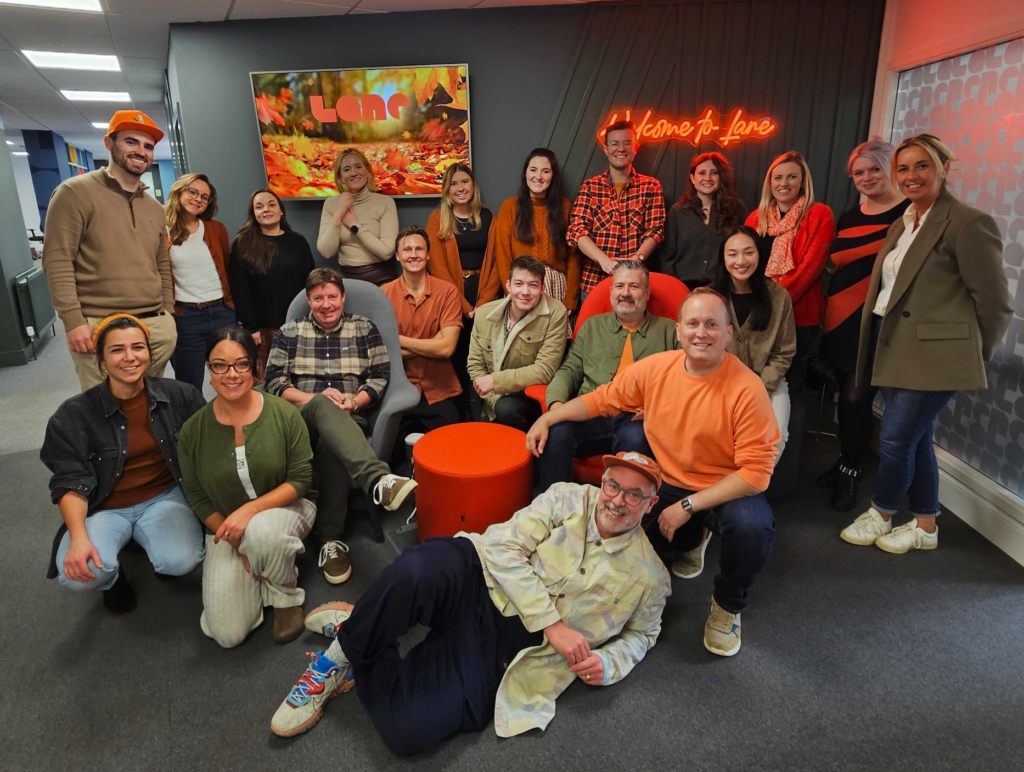 Key Job Role – Senior Account Manager
As a senior account manager, you'll be expected to inspire our clients to embrace our multi-disciplinary way of working across multiple channels, specialisms and platforms. You will be confident to give your projects direction and maintain a clear strategy to achieve the very best outcome for the client. You'll be used to working in a fast-paced agency environment, have excellent written and verbal communication skills and a keen attention to detail.
More specifically, your role will be:
To support your clients in delivering ideas and solutions to solve their marketing problems and deliver on their marketing objectives.
To support your clients in providing brilliant briefs to our team that result in brilliant work. Your role is not just to accept a brief, but to challenge it and work together with your client to deliver a great brief.  Our creative directors and media team will judge you on your briefs so your goal is to make them the best in the agency.
To drive client marketing implementation and become the primary client contact for your key clients, ensuring the agency provides a lead agency role.
To drive agency growth through existing clients, developing a proactive action plan.
To produce and deliver against an agreed account plan and budget.
Produce and monitor accurate and clear forecasting for each client.
To plan your client's activity and ensure delivery of the plan.
To produce exemplar briefs for the creative and digital teams in pursuit of excellent work.
To work with the Creative Directors of Advertising and Digital and the MD to achieve excellence in Creative and Digital campaign quality.
To agree measurement of ROI with your client and report regularly on effectiveness and KPIs.
Skills and experience necessary for this role:
You must be well organised, able to plan and manage your time effectively.
A self-starter, ambitious to grow within the agency you will be able to write excellent briefs for design, advertising, digital, SEO, PPC and media.
Digital and Advertising experience is essential, as well as project/account management skills.
Culture
The Lane is fast-paced, responsive and entrepreneurial. 
We fight for good work and good budgets.
We support our colleagues and work hard to deliver excellence. 
We are respectful and diligent. 
We are not precious – we plan, we present, we do and we deliver.  Sometimes we do one or two of these elements, sometimes we do it all.
Required work experience:
At least three years of relevant work experience.
Types of company/agency common for this role:
Integrated agency experience essential, covering digital/advertising/design/Search.
Jobs that could lead to this role:
Would consider an experienced Account Manager keen to take on more responsibility and looking for the next step.
If you think you've got what it takes, please send us your CV to talent@thelaneagency.com