Marketing – the bridge inspired leaders choose to travel over troubled waters.
The Lane Agency • 17th Oct 2022
How to use marketing and advertising to your advantage during economic decline. And you don't have to be big to be clever.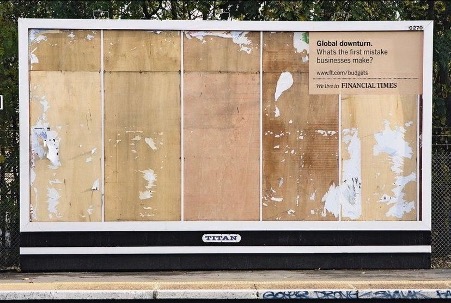 As the world economy teeters on the brink of recession, businesses are looking for ways to cut costs. Marketing budgets are often the first to be slashed and some businesses will sheep-like think that they should follow this 'easy' path. However, this can be a costly mistake. While it is important to be strategic about spending, reducing or eliminating marketing and advertising during a recession can be detrimental to both current sales success and a company's long-term health.
Brand leaders spend their way (cleverly) through a challenging economy. Our top tips are based on the behaviours of the best.
Well, first of all it takes experience and time to build a portfolio of evidenced effective creative work. It also takes time to build an excellent team with a blend of the very best specialist talent, and a portfolio of clients who trust you to deliver year-on-year.
Focus on long-term profit
It's easy to get caught up in the short-term when a decline hits and businesses are looking to cut costs. However, it's important to remember that marketing is an investment that can pay off now and in the long run. Letting your brand lose visibility can cost you multiple times as much to get back to where you were as you have to re-introduce the brand rather than build on what you've already spent. Reducing or eliminating marketing activities in the short term will have a negative impact on your company's long-term profitability.
Where it makes sense to do so, evolve your current advertising assets or brief your agency to create cleverly for a new campaign with the constraint of reduced production costs. Yes, constraints can be beautiful.
Keep an eye on those brand health metrics, such as consideration, awareness, associations, search intent, and time on website.
We use Orlando Wood's Fame, Fluency & Feeling model of brand growth. What model are you using?
Consider whether going dark at a time you have to fight harder to be considered is your wisest plan.
Spend more (wisely) to waste less
If you are still investing in product development, or want to produce something for a new audience to take advantage of people's recessionary brand switching habits, it's a wise move to make sure you give your product the absolute best start in life. Now's not the time to be shooting in the dark.
Box clever by investing in sophisticated, success prediction modelling, especially look out for ones that are based on emotional responses, rather than rational responses. We're not as rational as we like to think!
Stand out in buyer pitches by investing up front in product branding, and have your post-launch media plan ready to share with interested buyers. They want to know you're serious and willing to support that listing.
Aim for excess share of voice
In a downturn, less dynamic businesses may cut back on marketing and advertising, which can provide an opportunity for those who don't. By maintaining or even increasing your advertising spend, you can more cost effectively gain an excess share of voice, which can help you build market share and increase profits when the economy recovers.
Share of voice is reliant on getting the attention of more people, more often than competitors.
Attention is linked to creativity: a creative advert is not only more memorable, but make the less impactful ads in the same space less memorable.
Stay present as a brand within people's lives at tough times, there is comfort in what's familiar.
Measure, monitor and maintain your reach and frequency KPIs.
Be strategic about targeting
It's important to be strategic about your targeting when advertising costs are rising. Don't try to be everything to everyone. Instead, focus on your core customer base and target your messages to them.
Hone in on your most profitable audiences and ensure your marketing is finely targeted, and that your activity, where appropriate, is trackable. If you don't already know who your most profitable audiences are, now is the time to find out – at the Lane we have a variety of tools and metrics we use to support our clients with this.
Spot trends in competitor activity (or lack of it) and use your opportunity to grab share of voice. You can take market share while they are spending time with their accountants.
Ask your incumbent agencies to take on a little more or look for economies in your marketing mix that won't impact too greatly on your brand growth. A good agency will find a way to work with you to achieve strategic objectives, even when budgets are cut and the outlook isn't quite so rosy, ask for their help instead of cutting them off.
Check your positioning and be distinctive
In a challenging market, it's more important than ever to make sure your positioning is strong and that you are offering a distinctive product or service. This will help you stand out from the competition and attract customers who are looking for value.
When times are tough, there's more focus on price, value and looking after your own i.e. British businesses, so don't be afraid to revisit your proposition and tweak it to align with this sharpened value set.
Look at competitor messaging, have they shifted to the focus on value, or is there a chance for you to be the first, and the most memorable?
Understand what issues are important to your customer
Now more than ever, customers are looking for value. They want to know that your product or service is going to meet their needs. It's important to understand what issues are important to your customers and address them in your marketing and advertising.
Focus groups or a quick dip research are a smart spend to find out what's resonating most with your audience in current times. It's more expensive not to!
Be prepared to be agile
A recession, if we get to that point, can be a time of great change. Be prepared to be agile and adjust your plans as needed. This may mean shifting your focus to different channels or messages.
Make sure your marketing team is briefed to be nimble and ready to react.
Meet with your agency, and let them know you might be looking for faster turnarounds for a few months.

Agencies who have worked in fast paced sectors like retail and are focused on effectiveness are geared up to move quickly and often get a buzz from shape shifting to optimise results.

Digital channels are ideal for quick changes in direction and give you the ability to amplify certain aspects of your campaign at short notice and focus on your most effective assets.

Digital agencies who offer services such as paid social media marketing are 'ready' for these gear changes and should be an integral part of the team constantly reviewing and suggesting shifts to optimise performance.

Don't rule out digital out of home (DOOH) as an agile channel – there's now plenty of programmatic options.
The same goes for addressable TV, there are more and more targeted, affordable options.
Focus on core products
In a tough economic climate, it's important to focus on your core products and services. This is what your customers are looking for and this is what will help you maintain or grow your market share. There's an important nuance here, this doesn't mean your 'old' products and services, it means the most profitable ones, and the ones most likely to grow based on evolving audience needs and wants.
Create a product matrix based on Profitability and Market Size to understand what should be in your Core Range.
Focus on quality customer experiences over price promotion
The current cost of living means customers are looking for value. They want to know that your product or service is going to meet their needs. Promote the quality of your customer experience and make sure that your pricing is in line with the value you are offering.
Review your full competitor set and how they've responded to the market.
Check that your proposition and messaging is still fully aligned with audience needs and values.
Get an Effectiveness Roadmap
As the well-known tagline says, every little helps, especially when budgets are being squeezed from every direction. If you don't already have a plan for making sure your marketing is as effective as it can be, now's the time to make one. Even just taking one key channel and optimising that can be a start.
The first step is to conduct an Effectiveness Audit, we've got one we use if that sounds like a daunting task! It's based on the IPA's Effectiveness Framework, and is pretty comprehensive.
From there, you can identify areas of improvement, where you need to focus on. Perhaps it's getting access to a particular type of data, or making sure you're reviewing marketing results alongside sales figures, or even align internal stakeholders with marketing objectives.
Be ready for bounceback
The downturn will end and will change in nature. When it does, you want to be ready to take advantage of the recovery. This means having a plan in place for how you will increase your marketing and advertising spend.
If you've gone from Hero to Zero, it's going to be harder to rebuild, but those brands who have been clever with their spend and focused on the right areas will be quicker to gain back any losses in awareness and engagement.
If you've been strategic about where to cut, you and your agency should have a clear plan on which elements you'll turn back on or turn up as soon as budget allows so it will simply be a case of actioning each strand of the recovery plan.

During the pandemic, agencies like ours got very used to being ready to launch or stall based on government announcements and should still have these nimble skills in their armoury.

Don't forget to dip back in and take a check on any shift in brand perception, audience values and motivators – customers change during recessions and don't always fully revert to their old ways, they'll have tried new brands, lived differently and may have enjoyed the change.
By following these tips, you can maintain or even increase your marketing and advertising spend during a downturn and position your company to bounce back for long-term success.
If you'd like to talk to our team about a recession-ready support strategy, just give us a call on 0131 551 7777 or create@thelaneagency.com